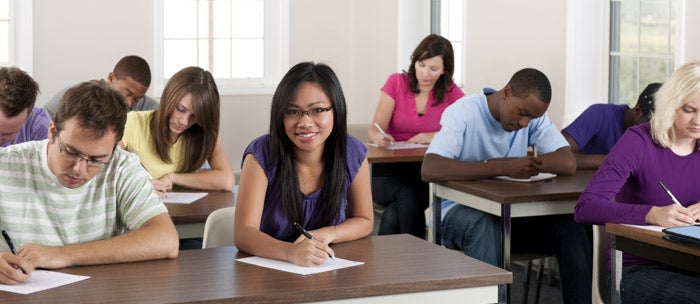 Services That Help You Focus on Learning
Our SDRC Academic Support Center (ASC) offers several services for eligible students with verified temporary or permanent disabilities, including: exam accommodations, note-sharing, adaptive equipment, assistive technology software and hardware, library assistance, Computer-Aided Real-Time Translation (CART) and sign language interpreters.
The SDRC Academic Support Center (ASC) can only provide services to registered students with approved accommodations¹, please see  Checklist for New Students or  Accessing Services once approved. Students can access exam and note sharing accommodations through R'Ability (please see tutorial here).  For other accommodations, please contact the appropriate email below:
Exam accommodations:
SDRC-exams@ucr.edu 

UCR placement exam accommodations:
SDRC-Placement@ucr.edu

Note-sharing accommodations:
SDRC-notesharing@ucr.edu
 
Sign language or CART accommodations:
SDRC-ASL-CART@ucr.edu  
SDRC Academic Support Center (ASC) Contact Information 
Rebecca Aguiar, Coordinator of Academic Support Center
Hanna Randolph, Academic Support Center Lead Assistant
Location
1213 Student Services Building
374 Skye Hall - formerly SURGE (by appt only)
Hours 8am - 5pm
Voice: (951) 827-3028
Fax: (951) 827-6310
¹Students who use the SDRC for exams, note sharing or other accommodations are expected to adhere to UCR Student Conduct Code and Academic Integrity policies. Violations of policy may result in referral to the Student Conduct and Academic Integrity office for possible disciplinary action.
---